Forged Check Valve Pressure To Ansi Class 900Lbs, 1500Lbs, Bolted Bonnet And Welded Bonnet, Sw, Npt, Screwed Ends, NPS 1/2 to NPS 2, Full Bore, Reduced Bore Forged Steel Check Valves, Ball, Piston, Swing Type, Forged Carbon Steel, Stainless Steel, Duplex Steel Check Valve Supplier, Exporter In China.
Specifications For Forged Check Valve 900#, 1500# (SW, NPT Ends)
1. Design & Manufacture: BS5352
2. Constructions: Bolted Bonnet, Welded Bonnet
3. Bore Type: Full bore /Reduced bore
4. Size Range: 1/2", 3/4", 1", 1/1/4", 1 1/2", 2"
5. Pressure Ratings: ANSI 900LBS – 1500LBS
6. End Connections: Threaded, Npt, Socket Weld.
7. Materials Available in: A105, LF2, F5, F11, F22, F304, F316, F51, F53 or Equivalent
8. Various Trim Materials are Available to Suit Different Service Conditions
9. NACE MR 0175 on Request
10.Test and Inspection: API598
FORGED STEEL CHECK VALVE BOLTED BONNET & WELDED BONNET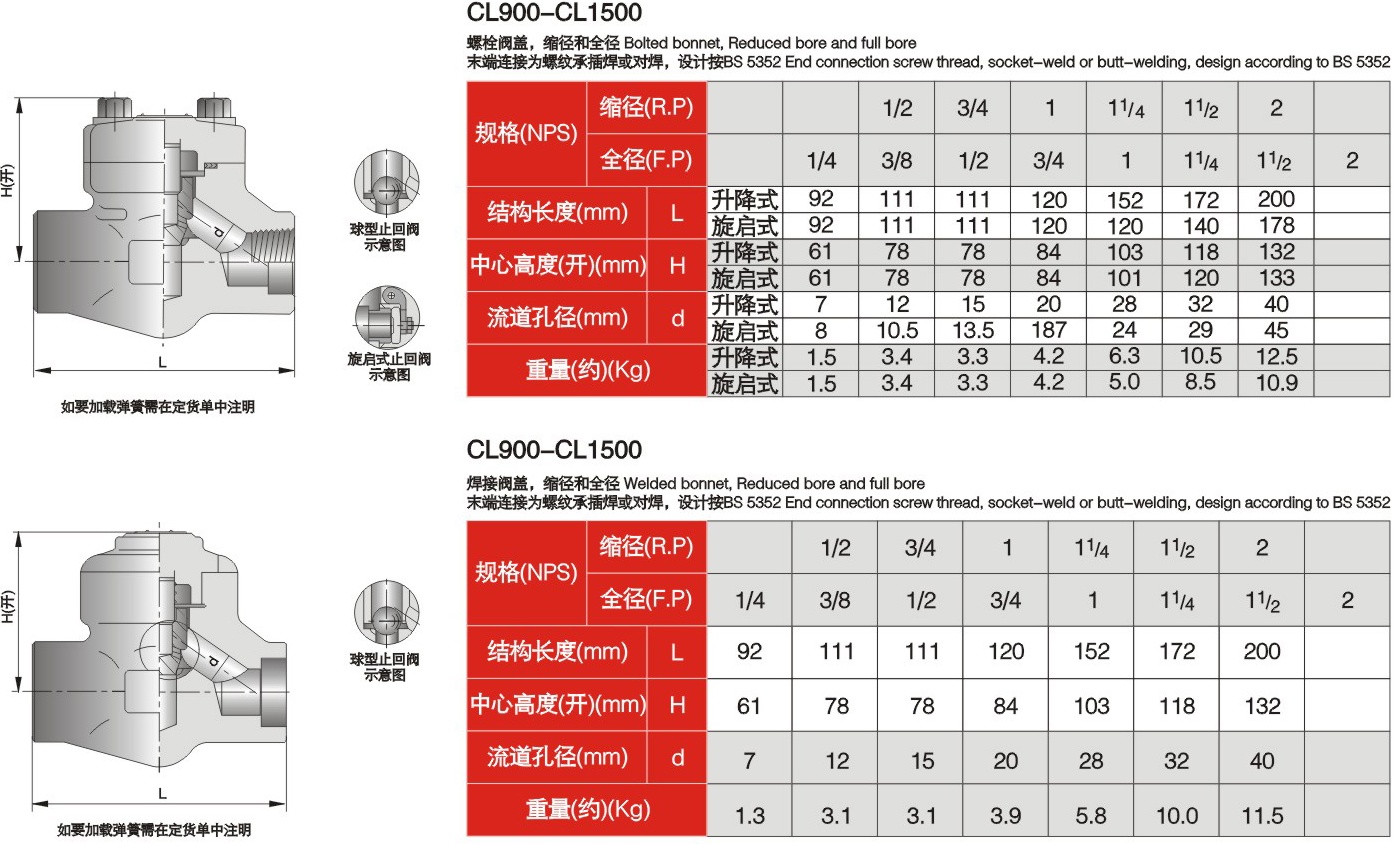 FORGED STEEL CHECK VALVE DIMENSION DETAILS
1. NPT & SW ENDS FORGED CHECK VALVE 800LBS (BOLTED AND WELDED BONNET)
2. NPT & SW ENDS FORGED CHECK VALVE 900LBS - 2500LBS ( PRESSURE SEAL BONNET)
3. NPT & SW ENDS FORGED CHECK VALVE 900LBS - 2500LBS ( RJ BONNET)
4. FLANGED & BW ENDS FORGED CHECK VALVE 150LBS - 600LBS
5. FLANGED & BW ENDS FORGED CHECK VALVE 900LBS - 2500LBS (RJ BONNET)
6. FLANGED & BW ENDS FORGED CHECK VALVE 900LBS - 2500LBS (PRESSUR SEAL BONNET)