Forged Steel Flanged Gate Valve
Forged Steel Flanged Gate Valve: Industrial, Solid Gate Or Wedge, Api 602 Forged Carbon Steel Gate Valves, Stainless Steel Gate Valves and Alloy Steel Gate Valves, Trim in 13CR, 8#, 5#, and Stainless Steel; Sizes 1/2″ to 2″, Pressure Rating ANSI Class 150LBS, 300LBS, 600LBS, 900LBS, 1500LBS and 2500LBS;
End Flange Types: Integral Flange Gate Valve and Welded Flange Gate Valve, RF and RTJ.
Rising Stem, B.B. & W.B Designs, Handwheel Operated or Bare Stem As Per ISO 5211 For Forged Steel Gate Valve
Forged Steel Flanged Gate Valve Specification:
1. Design & Manufacture: API 602
2. Constructions: OS&Y, Bolted Bonnet, Welded Bonnet & Pressure Sealed Bonnet;
3. Bore Type: Full Port
4. Size Range: 1/2″ to 2″.
5. Pressure Ratings: ANSI 150, 300, 600, 900, 1500 & 2500LBS
6. End Connections: Flanged (RF, RTJ)
Other Ends Also Available: Threaded (Screwed, NPT), Butt weld (BW), Socket Weld (SW).
7. Materials Available in: A105 (N), LF2, F5, F11, F22, F304, F316, F51, F53 or Equivalent;
8. Various Trim Materials Are Available to Suit Different Service Conditions
9. NACE MR 0175 on Request
10.Test and Inspection: API598
11. Special Requirement, Please Contact us.
Forged Steel Flanged Gate Valve Main Parts:
Part Name

Material

A105

A105

A105

F304

F316

Trim 1#

Trim 8#

Trim 5#

Trim SS304

Trim SS316

Body

A105

A105

A105

F304

F316

Bonnet

A105

A105

A105

F304

F316

Disc

13Cr

13Cr

STL

F304

F316

Seat

13Cr

STL

STL

SS304

SS316

Stem

F6a

F6a

F6a

F304

F316

Bolts/Nuts

B7/2H

B7/2H

B7/2H

B8/8

B8M/8M
For more details,such as forged steel gate valves dimensions and valve parts, please see our FORGED STEEL GATE VALVE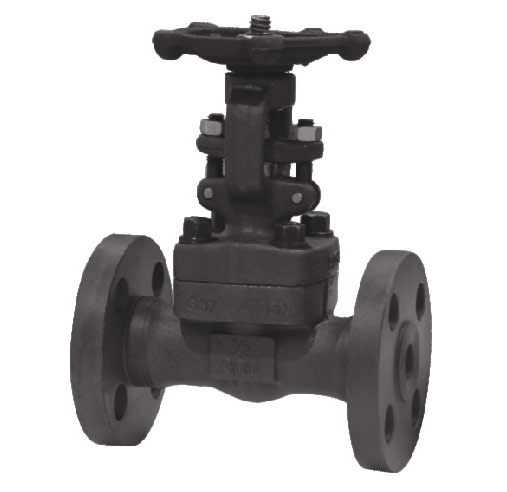 Tags:

FORGED GATE VALVE

,

forged steel flanged gate valve