Industrial Forged Check Valve Flanged or Bw Ends To CL900, CL1500, CL2500, Bolted Bonnet (BB), Rj Gasket Design, Carbon Steel And Stainless Steel Body, Metal Seat, Hard Seal, Trim in 1#, 5#, 8#, 12#, Integral Flange or Welded Flange Type Forged Steel Check Valves Supplier, Manufacturer, Exporter From China.
FLANGED / BW ENDS FORGED STEEL CHECK VALVE CLASS900LBS - 1500LBS - 2500LBS
1. Design & Manufacture: BS5352
2. Constructions: Bolted Bonnet
3. Bore Type: Full Bore
4. Size Range: 1/2" to 2"
5. Pressure Ratings: ANSI 900LBS, 1500LBS, 2500LBS
6. End Connections: Flanged, Butt Weld
7. Materials Available in: A105, LF2, F5, F11, F22, F304, F316, F51, F53 or Equivalent
8. Various Trim Materials are Available to Suit Different Service Conditions
9. NACE MR 0175
10.Test and Inspection: API598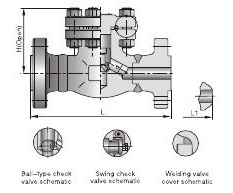 CLASS900 - 1500LBS RJ Gasket Bolted Bonnet : Full Port
Size (NPS)

F.P.

1/2

3/4

1

1 1/4

1 1/2

2

Face to face (mm)

L(RF)L1(BW)

216

229

254

280

305

371

Height (mm)

H

81

93

95

101

118

130

Flow port dimension(mm)

d (vertical)

12

15

20

28

32

40

d (swing)

13.5

18

24

29

36.5

45

Weight(kgs)

Vertical

5.2

6.8

10.5

28

18

24

Swing

5.0

6.1

10.8

29

17.6

27
CLASS2500LBS RJ Gasket Bolted Bonnet : Full Port
Size (NPS)

F.P.

1/2

3/4

1

1 1/4

1 1/2

2

Face to face (mm)

L(RF)L1(BW)

264

273

308

349

384

450




L(RTJ)

264

273

308

352

387

454

Height (mm)

H

81

93

95

101

118

130

Flow port dimension(mm)

d (vertical)

12

15

20

28

32

40

d (swing)

10.5

13.5

18

24

29

36.5

Weight(kgs)

Vertical

17

21

28

44.5

58

85

Swing

-

-

-

-

-

-

FORGED STEEL CHECK VALVE DIMENSION DETAILS
1. NPT & SW ENDS FORGED CHECK VALVE 800LBS (BOLTED AND WELDED BONNET)
2. NPT & SW ENDS FORGED CHECK VALVE 900LBS - 1500LBS (BOLTED AND WELDED BONNET)
3. NPT & SW ENDS FORGED CHECK VALVE 900LBS - 2500LBS ( PRESSURE SEAL BONNET)
4. NPT & SW ENDS FORGED CHECK VALVE 900LBS - 2500LBS ( RJ BONNET)
5. FLANGED & BW ENDS FORGED CHECK VALVE 150LBS - 600LBS
6. FLANGED & BW ENDS FORGED CHECK VALVE 900LBS - 2500LBS (PRESSUR SEAL BONNET)