Flanged Forged Gate Valve CL150 To CL2500, API 602, Integral Flanged, Welded Flanged, BW Ends, Outside Screw And Yoke And Rising Stem Design, Bolted / Welded Bonnet, Pressure Seal Bonnet Forged Steel Solid Wedge Gate Valves, Ansi Class 150Lbs, 300Lbs, 600Lbs, 900Lbs, 1500Lbs, 2500Lbs, NPS 1/2 to NPS2 Carbon Steel, Stainless Steel, Duplex Steel Handwheel Samll Size Gate Valve Supplier and Exporter.
Specifications For Forged Gate Valve 150LBS – 2500LBS (Flanged, Bw Ends)
1. Design & Manufacture: API 602
2. Constructions: OS&Y, Bolted Bonnet, Welded Bonnet & Pressure Sealed Bonnet;
3. Port type: Reduced Port
4. Size Range: 1/2″ to 2″.
5. Pressure Ratings: ANSI 150LB, 300LB, 600LB, 900LB, 1500LB & 2500LB
6. End Connections: Flanged (RF, RJ), Butt weld (BW)
7. Materials Available in: A105, LF2, F5, F11, F22, F304, F316, F51 or Equivalent;
8. Various Trim Materials are Available to Suit Different Service Conditions
9. NACE MR 0175 on Request
10.Test and Inspection: API598
11. Welded Flange or Integrated Flange are Available For Choice.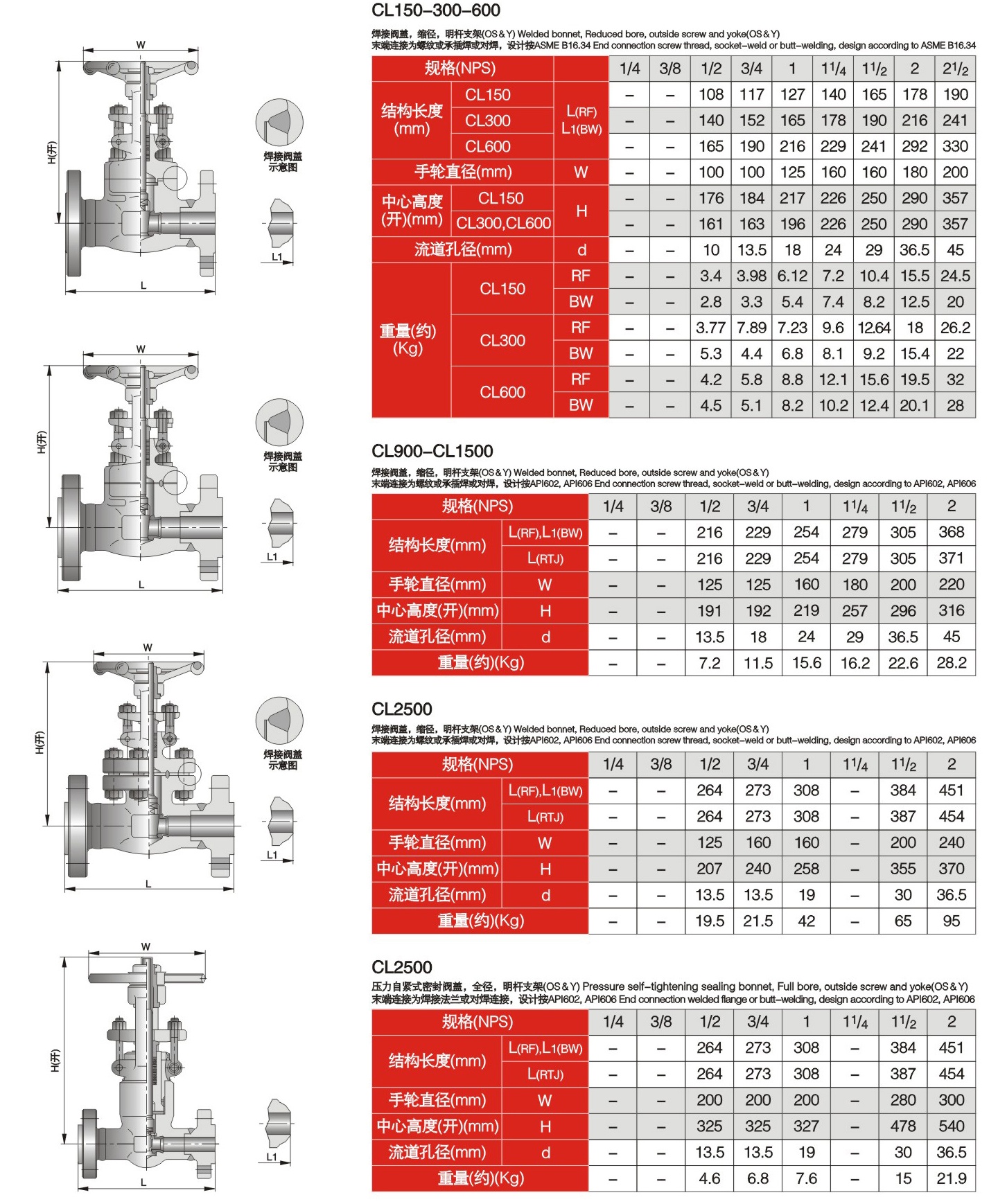 FORGED GATE VALVE DIMENSION DETAILS
1. FORGED GATE VALVE 800LBS (SW & NPT ENDS)
2. FORGED GATE VALVE 900LBS - 1500LBS (SW & NPT ENDS)
3. FORGED GATE VALVE 1500LBS - 2500LBS
4. FORGED GATE VALVE PRESSURE SEAL 1500LBS - 2500LBS